---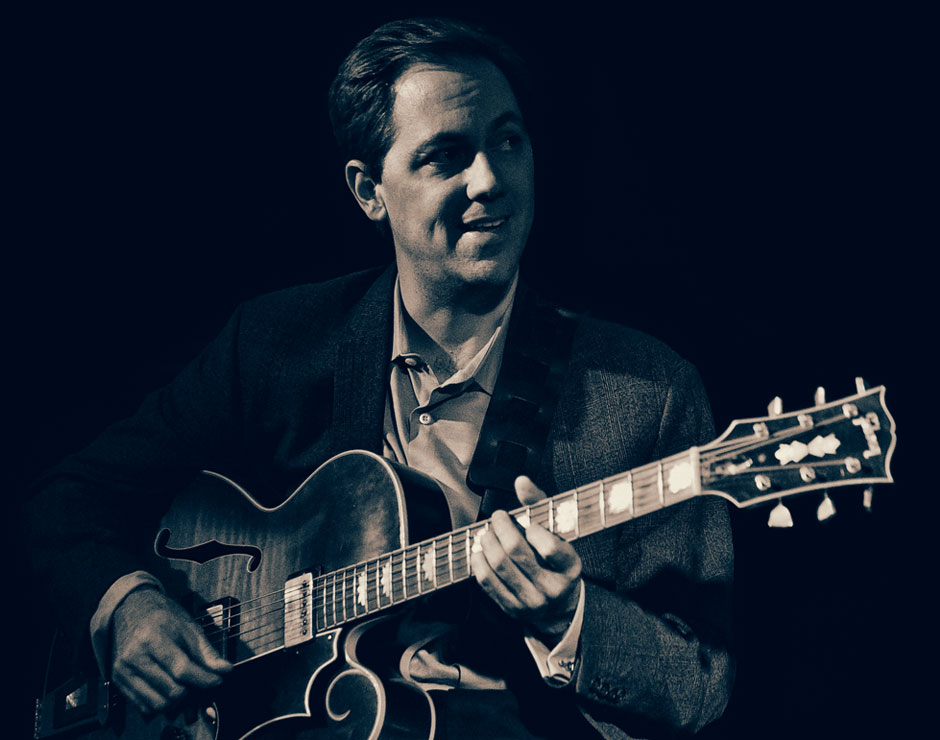 Biography
Andy Brown is a guitarist based in Chicago. Born in New York City in 1975, he has played professionally for over twenty years. He has had a varied performing career that has included stints in Cincinnati and New York.
Since coming to Chicago in 2003, Andy has been fortunate to work at many of the area's finest jazz venues with his own bands, as well as playing his unique brand of solo jazz guitar. He has... read more →
Press
"Inspiring music-making isn't necessarily loud, aggressive, self-aggrandizing or heavily promoted. Consider what happens early every Wednesday night at Andy's Jazz Club, where the superb but serenely understated Chicago guitarist Andy Brown leads a quartet. Like him, his band mates speak softly but poetically. Brown's pastel tones, softly stated melody lines and delicately rolled chords conveyed remarkable intimacy and the guitarist's solo on "I've Grown Accustomed to Her Face" made a strong, soulful case for melodic simplicity... read more →
News
[updated May 2022]
I'm really excited to be at one of my all-time favorite jazz clubs to play this Wednesday, May 25th. I'll be appearing at Winter's Jazz Club, with two sets at 7:30PM and 9:30PM. I often do special themed nights at Winter's focusing on a specific composer or legendary jazz artist. Wednesday I'll be presenting music that is really close to my heart, tunes associated with pianists and bandleaders Count Basie and Oscar Peterson. They both have been favorites of mine since my jazz beginnings and if you're looking for examples of what it means to swing look no further than their recordings. I'll be attempting to conjure up some of their feelings of joyous groove with three of the most swinging musicians in town - pianist Kevin Fort, bassist Jake Vinsel and drummer Pete Zimmer. All three of these musicians have made high-level grooving their top priority and they learned their lessons well from Basie and OP.
I'm pleased to be playing at this year's Elkhart Jazz Festival. This is a great jazz fest that has been going strong for 34 years! I've played there several times but this will be my debut as a leader. My trio with Joe Policastro on bass and Bob Rummage on drums will perform two sets, one in the evening on Friday, June 17 and one in the afternoon on Saturday, June 18th. Elkhart is just a couple of hours from Chi and the festival is always such a great time.
---
↑
Up