---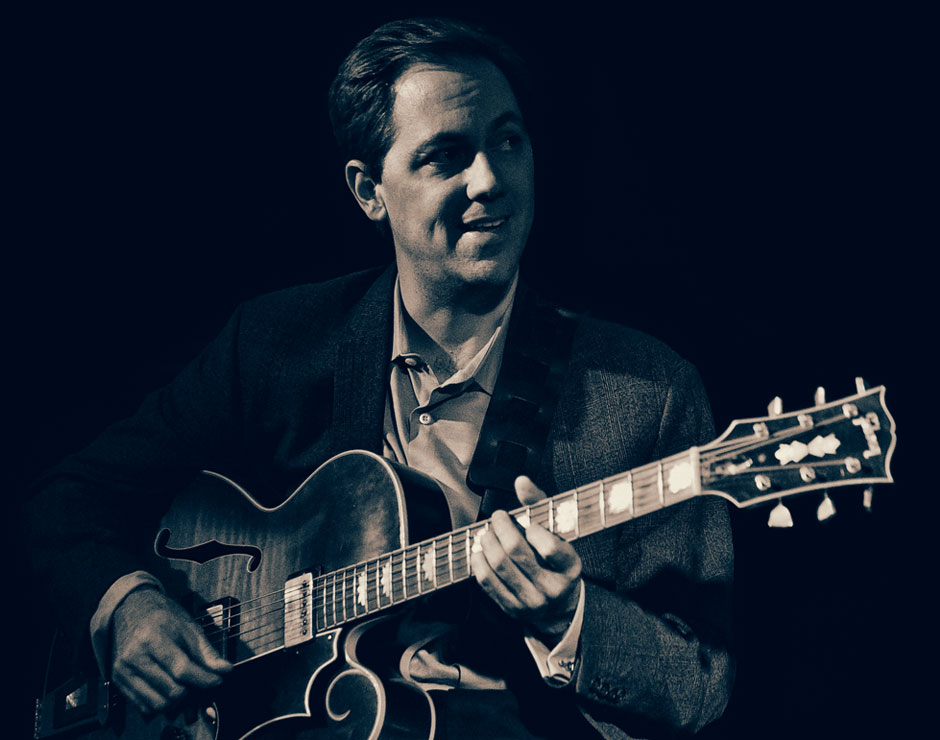 Biography
Andy Brown is a guitarist based in Chicago. Born in New York City in 1975, he has played professionally for over twenty years. He has had a varied performing career that has included stints in Cincinnati and New York.
Since coming to Chicago in 2003, Andy has been fortunate to work at many of the area's finest jazz venues with his own bands, as well as playing his unique brand of solo jazz guitar. He has... read more →
Press
"Inspiring music-making isn't necessarily loud, aggressive, self-aggrandizing or heavily promoted. Consider what happens early every Wednesday night at Andy's Jazz Club, where the superb but serenely understated Chicago guitarist Andy Brown leads a quartet. Like him, his band mates speak softly but poetically. Brown's pastel tones, softly stated melody lines and delicately rolled chords conveyed remarkable intimacy and the guitarist's solo on "I've Grown Accustomed to Her Face" made a strong, soulful case for melodic simplicity... read more →
News
[updated February 2019]
February 8 and 9 I'll be at the Green Mill with the Warren Vaché/Russ Phillips Quintet. Warren will be visiting from NYC and is one of the most respected and swinging cornet players in the world today. Chicago's own Russ Phillips on trombone is equally fantastic and I'm so excited to be playing with these two phenomenal brass players. In the fifteen years I've lived in Chicago I don't ever remember Warren playing in town so this will be a special weekend. The rhythm section will consist of myself on guitar, Dennis Carroll on bass and Phil Gratteau on drums so a good time is sure to be had. We'll be at the Green Mill Friday Feb 8 from 9pm-1am and Saturday Feb 10 from 8pm-12am.
My quartet which has played weekly at Andy's Jazz Club for seven years will be making it's debut at the Jazz Showcase Thursday Feb 28-Sunday March 3. This group features Jeremy Kahn on piano, Joe Policastro on bass and Phil Gratteau on drums. I've been so fortunate to get to work with these world-class musicians every week and I'm really excited for these four nights together at the Showcase. Sets are at 8pm and 10pm nightly, as well as a Sunday matinee at 4pm.
I'm pleased to announce the acclaimed musical teaching company My Music Masterclasses has just released a three-part masterclass of mine where I discuss many ideas concerning solo guitar. I put a lot of thought into it and if you're interested in solo jazz guitar I think you'll enjoy it! You can purchase it here: MyMusicmasterclasses
---
↑
Up